Product description:
Waterproof bathroom Mirrors are designed for high-end fashion. They can be divided into lighted waterproof wall mirrors and lighted waterproof table mirrors. The Bathroom Mirror generally refers to the mirror that is installed or placed in the bathroom. What is Waterproof Bathroom Mirror? It means that the bathroom mirror acts as a water barrier. Even if it is drenched with water, the water will not enter the bathroom mirror and damage the function of the electronic parts.
Whether it is a Wall Mirror or a table mirror, their structure is very precise. Because we use suitable metal materials according to their different structures, metal materials are generally made of zinc alloy, copper, stainless steel, and iron. Their textures are different. It is better to say that iron and iron are hard. It is suitable for circular frames. The properties of the alloy are soft, suitable for square frames, which can be integrally formed, seamlessly connected, and high-end atmosphere.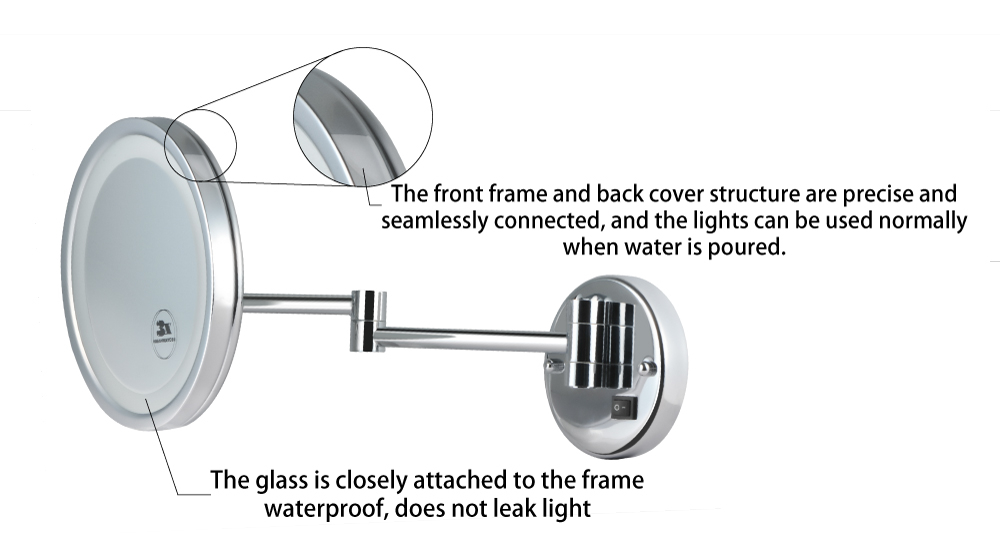 Waterproof bathroom mirror with magnifying function, the image is not deformed, and the magnification can be selected according to their needs, generally can choose 3X, 5X, 7X. 3X, 5X is generally suitable for young people, and 7X is generally suitable for elderly people. When using a magnifying glass, please keep a distance of about 15cm with the magnifying glass, because too far or near and far will be blurred, or dizzy phenomenon, this is now normal, if there is a phenomenon such as fuzzy clear dizzy, just move the distance with the magnifying glass.

Packaging and quantity:
Different styles require different kinds of reasonable and safe packaging. We design suitable and safe packaging according to different styles. Generally, we use bubble bags, pearl cotton, inner boxes, outer boxes, four, six, and twelve inner boxes to pack one outer box. The package passed the drop test.
Whether you are a wholesaler or an on-line e-commerce provider, whether you buy one, one box, or thousands, we provide services for you!
Material
LEVE Vanity Mirrors use selected metal raw materials,glass mirrors and reliable electrical parts, our lighted Vanity Mirror is different from which you can see on the market,it is not only mirrors but also an equipment with special function including anti-fog,anti-wet, anti-rust, and good in illumination.
We use thickness metal to make our mirror strong enough to long time use and we use important glass mirrors make your picture more reality and more beautiful.
Our mirrors are approved via international safety certificate such as CE.UL , GS, TUV, Rosh .
Once you cooperate with us you don`t worry about quality problems makes you trouble.
About Us
Shenzhen LEVE Houseware Co,Ltd is an enterprise which specializes in the design, manufacture, and export of Vanity mirrors, such as vanity table mirrors, duble vanity mirrors, wall mounted vanity mirrors, standing vanity mirrors, lighted vanity mirrors, magnifying vanity mirrors and other bathroom vanity mirrors, etc.
We have been serving the hospitality and residential industries for over ten years with product lines that including luxury vanity mirrors, led vanity mirrors with sensor switch and battery operated mirrors .