Product description:
Tilt Bathroom Mirror is made of metal, glass and electronic original accessories. Metals are generally made of zinc alloy, copper, iron, and stainless steel that are made into frames, U-frames, rocker arms, and bases by cutting, punching, welding, polishing, and electroplating. The metal fittings have rust-proof and anti-corrosion functions, and some of them have salt spray tests for 96 hours, which increases the service life and aesthetics of the Tilt Bathroom Mirror. There are many colors in the plating layer, such as chrome plating, nickel plating, nickel plating, and PVD plating. You can choose the color of the Tilt bathroom mirror according to the overall design of the hotel, club, villa, bathroom and bedroom. We can also customize the color according to your needs.
The glass of the Tilt bathroom mirror is made of high-definition glass imported from Taiwan and the image is not deformed.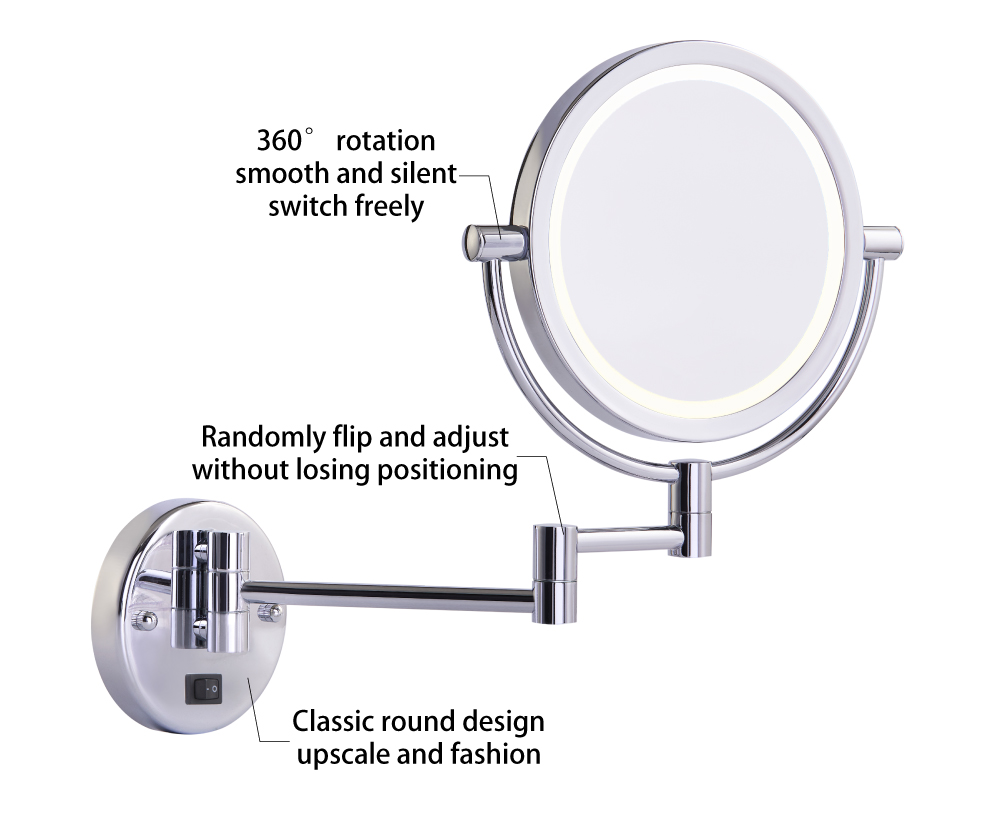 Electronic original parts are professionally customized SMD lamp panels, transformers, transformers through international certification, such as UL.CE, ETC, etc. We use SMD lamp panels and transformers to save energy, save energy, and protect the environment, and the voltage of each country is inconsistent. Our transformers are suitable for voltages of 110V-260V in countries around the world.
The Tilt bathroom mirror can be rotated 360° to maintain orientation at any angle. We use the connection of the frame and the U-shaped frame, the rotation is smooth and silent, and we use the smooth screws to make the Bathroom mirror more upscale and fashionable. The rotation is also very simple, as long as you gently turn the mirror frame, and the frame is not lost, you can stay in the desired position.

OEM and Quantity:
We can design products for you according to your requirements and provide the products you need. Regardless of product, surface treatment, or light color, we can customize according to your requirements.
Whether you are a wholesaler or a retailer; whether you buy one, a box, or thousands, we provide services for you!
Once you cooperate with us you don`t worry about quality problems makes you trouble.
About Us
Shenzhen LEVE Houseware Co,Ltd is an enterprise which specializes in the design, manufacture, and export of Vanity Mirrors, such as vanity table mirrors, duble vanity mirrors, wall mounted vanity mirrors, standing vanity mirrors, lighted vanity mirrors, magnifying vanity mirrors and other bathroom vanity mirrors, etc.
We have been serving the hospitality and residential industries for over ten years with product lines that including luxury vanity mirrors, led vanity mirrors with sensor switch and battery operated mirrors .