Product description:
Round Bathroom Mirror is the most classic style of Bathroom mirror. Their designs are classic and fashionable and have been loved by the people for many years.
The Round bathroom mirror is designed in a wide range of styles, including a round-lit Wall Mirror, a round non-light wall mirror, a round illuminated table mirror, and a round non-Lighted Table Mirror. Regardless of their design, they are made up of round frames, circular rocker arms or pillars, and circular bases.
Their round structure has a high degree of precision, and the anastomosis of the front frame back cover is very precise. The seam is small and does not leak light. The connection between the frame and the swing arm or the pillar, the connection between the swing arm or the pillar and the base is also very precise, the wall mirror rocker rotates silently without losing the position, and the position of the bathroom mirror can be adjusted according to the user's position and height. The connection between the pillar and the base is firm and does not rotate, and is very stable and not shaking.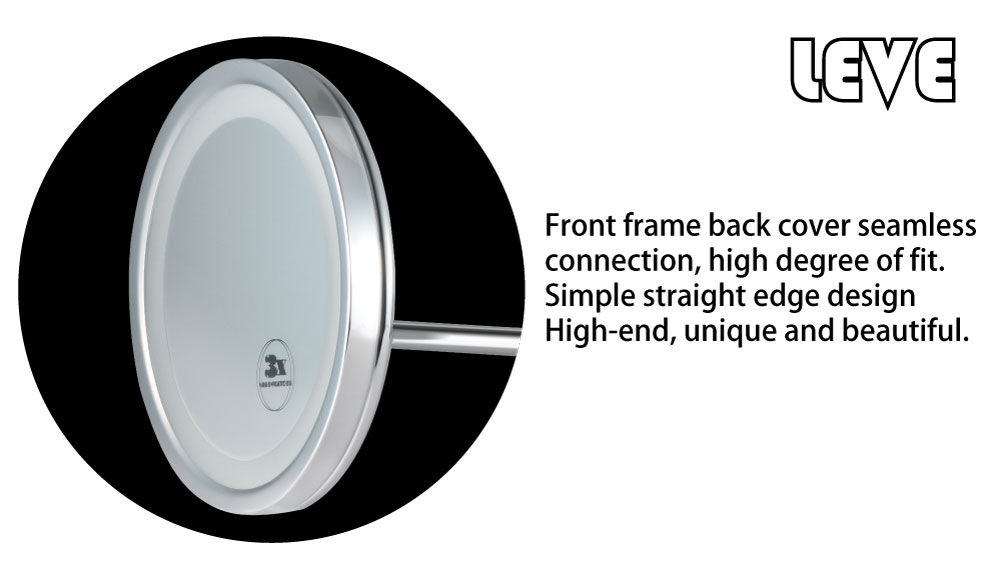 Details reflect quality. Metals contact with air for a long time will rust and corrode. Our metal fittings are cut, welded, stamped, polished, and electroplated to make metal fittings resistant to rust and corrosion. Even some products can reach a neutral salt spray test of 96 hour, In order to increase the bathroom mirror life and beauty. Excellent surface treatment can also be selected according to the design of your hotel or villa. We often do chrome bathroom Mirrors, nickel-plated sand bath mirrors, black-plated bathroom mirrors and gold-plated bathroom mirrors. We can also customize the color of the surface treatment according to your requirements.

Material and Quality:
LEVE Vanity Mirrors use selected metal raw materials,glass mirrors and reliable electrical parts, our lighted Vanity Mirror is different from which you can see on the market,it is not only mirrors but also an equipment with special function including anti-fog,anti-wet, anti-rust, and good in illumination.
We use thickness metal to make our mirror strong enough to long time use and we use important glass mirrors make your picture more reality and more beautiful.
Our mirrors are approved via international safety certificate such as CE.UL , GS, TUV, Rosh .
Once you cooperate with us you don`t worry about quality problems makes you trouble.
About Us
Shenzhen LEVE Houseware Co,Ltd is an enterprise which specializes in the design, manufacture, and export of Vanity mirrors, such as vanity table mirrors, duble vanity mirrors, wall mounted vanity mirrors, standing vanity mirrors, lighted vanity mirrors, magnifying vanity mirrors and other bathroom vanity mirrors, etc.
We have been serving the hospitality and residential industries for over ten years with product lines that including luxury vanity mirrors, led vanity mirrors with sensor switch and battery operated mirrors .