Product description:
Makeup Mirror With Lights is also called Lighted Makeup Mirror. Their style, size, shape, etc. are not the same. However, they all have high quality and novel styles.
Their styles include wall mirrors and table mirrors. The biggest difference between the Wall Mirror and the table mirror is that one is installed on the wall, and the other is on the sink or the dressing table.
Wall mirrors installed on the wall can effectively save space. Then, in addition to the quality of the product, the wall mirror must pay attention to whether it is mounted on the wall mirror. Our wall mirrors are fixed with explosion screws. The explosion screws are umbrellas when they are pushed into the wall, and the reinforcements are not easy to drop. Mounting on the wall not only saves space, is beautifully decorated, but also very convenient. Our make-up mirrors are all with azimuth and height. We can adjust the mirror to its most comfortable position and adjust the height of the mirror according to its height. Let us use the peace of mind, more comfortable.
The use of the table mirror is also very convenient. You can place the mirror in your favorite position and place it according to your preferences. It also has an adjustment function, which can be adjusted according to the height of the stool, making us more comfortable and comfortable.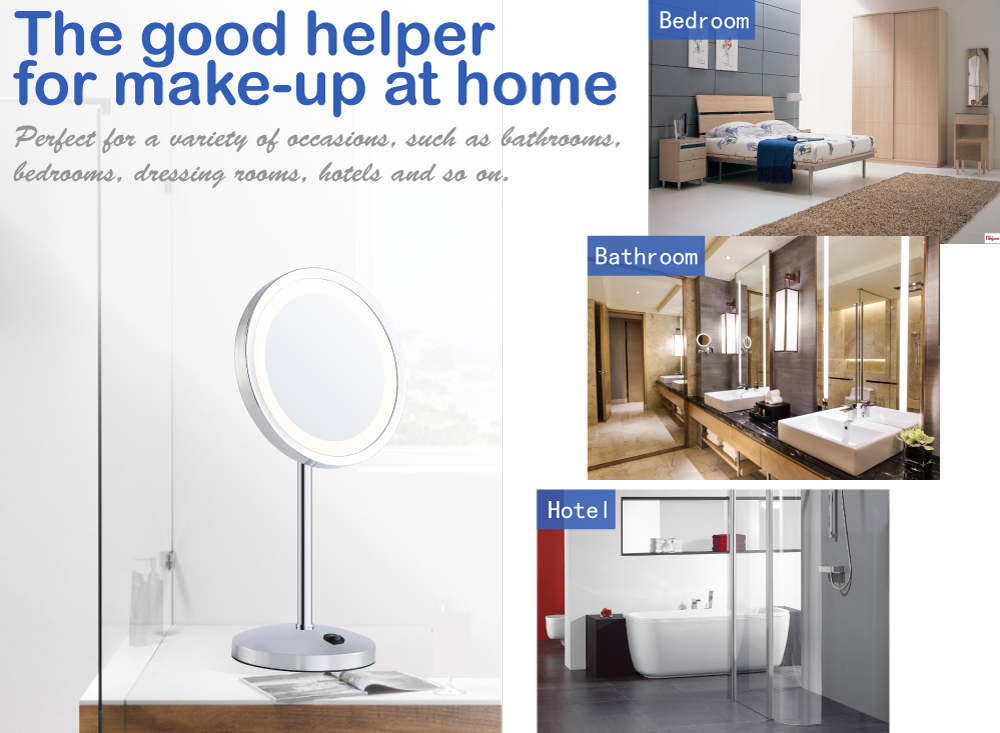 OEM order process:
We not only design products, but also have their own production and processing plants. Whether you are customizing or processing, whether you are a wholesaler or a retailer, we offer the most sincere service.
We have provided tens of thousands of OEM orders for high-end hotels or brands around the world.
We communicate through business and understand your customization needs. Our designers will design products and quote products through interpretation of your customized requirements. After repeated communication between the parties, you confirm the product, unit price, we receive your confirmation, carry out mold development, after the abrasive tool is opened, proofing, send you confirmation, after confirming the correctness, we both signed a sales contract, after you sign, you pay large After the deposit is received, we will carry out the production of large goods. After the large goods have been produced, a sample inspection will be carried out and a inspection report will be issued. After the inspection is completed, the goods will be notified to you and you will be asked to confirm the shipping method and payment of the balance. According to your needs, you can choose sea, land, air and other shipping methods to reach your destination port. If there are any subsequent problems, we will provide you with the most sincere after-sales service.