Product description:
Fogless Bathroom Mirror is a Bathroom Mirror with anti-fog function. General bathroom mirror will be blurred when it comes to water mist, but the bathroom mirror with anti-fog function is clear when it comes to water mist. The first is a lighted bathroom mirror. The light source is a light bulb. The temperature of the bulb is high and it has the function of heating and evaporating. If using SMD light board, because of the low temperature of the SMD panel, we use anti-fog film to make the bathroom mirror even in water. Even in the fog, the bathroom mirror can also be clear and can be used normally.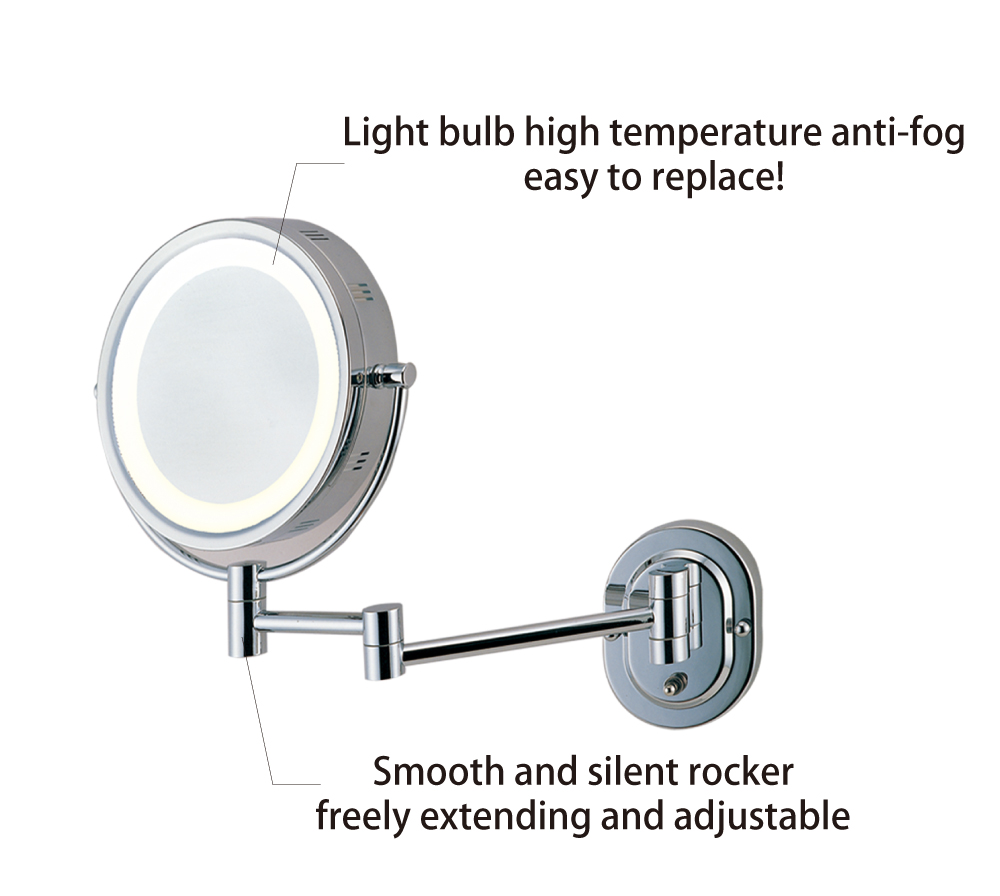 Bathroom mirror care and cleaning:
Glass Mirror:
1. the glass mirror is dirt, you can soft cloth or gauze reef a little kerosene or wax wipe, do not wipe with a damp cloth, otherwise the mirror will be blurred.
2. When bathing, the bathroom Makeup Mirror is often vaguely smudged by steam. You can apply the soap to the mirror surface and then wipe it with a dry cloth to form a layer of soap on the mirror surface to prevent the mirror from being blurred. For example, use a weak alkaline lotion. Or detergent, can also receive the same effect.
3. If you think that the mirror is a little blurry, then wipe the mirror with the rag of a reef milk to make it clear and bright.
Metal parts:
1. Develop the habit of opening windows, keep the air in the bathroom open, and maintain the wet and dry separation of bathroom accessories.
2, to avoid any sharp or abrasive cleaning cloth collision and wipe the metal surface.
3, to avoid all strong acid and alkali, corrosive liquids or objects smear product surface.
4, usually with a soft cloth or a special cloth can be gently wipe, at intervals can be used to enhance the ability of a strong wax, painted on a clean soft cotton cloth, a thorough cleaning of the metal parts can be Make the metal surface bright as new.
About Us
Shenzhen LEVE Houseware Co,Ltd is an enterprise which specializes in the design, manufacture, and export of Vanity Mirrors, such as vanity table mirrors, duble vanity mirrors, wall mounted vanity mirrors, standing vanity mirrors, lighted vanity mirrors, magnifying vanity mirrors and other bathroom vanity mirrors, etc.
We have been serving the hospitality and residential industries for over ten years with product lines that including luxury vanity mirrors, led vanity mirrors with sensor switch and battery operated mirrors .