Product description and definition
Double Vanity Mirror is also called Two way mirror. As the name implies, the mirror is double-sided. Double Vanity Mirror consists of a flat mirror and a magnifying glass. Its design is more flexible and free to choose. For example, if we want to see the entire face, we can choose the plane mirror; when we want to see parts, such as eyes and lips, we can choose the magnifying glass. Whether we want to use a flat mirror or a magnifying glass it can meet our needs.
It is also very convenient to use, our mirror design is a 360-degree rotation, as long as the hand gently rotate it, it is very convenient. It looks very simple, but it is not easy to do it well. If its design is unreasonable, it is easy to loosen the frame when you rotate it, the frame is dropped, or the light flashes or even does not shine. If this happens, the vanity mirror will be scrapped. Our Double vanity mirror design structure is very reasonable and firm, the screw is not easy to loose when rotating, the frame does not fall, the light is bright and does not flicker when rotating.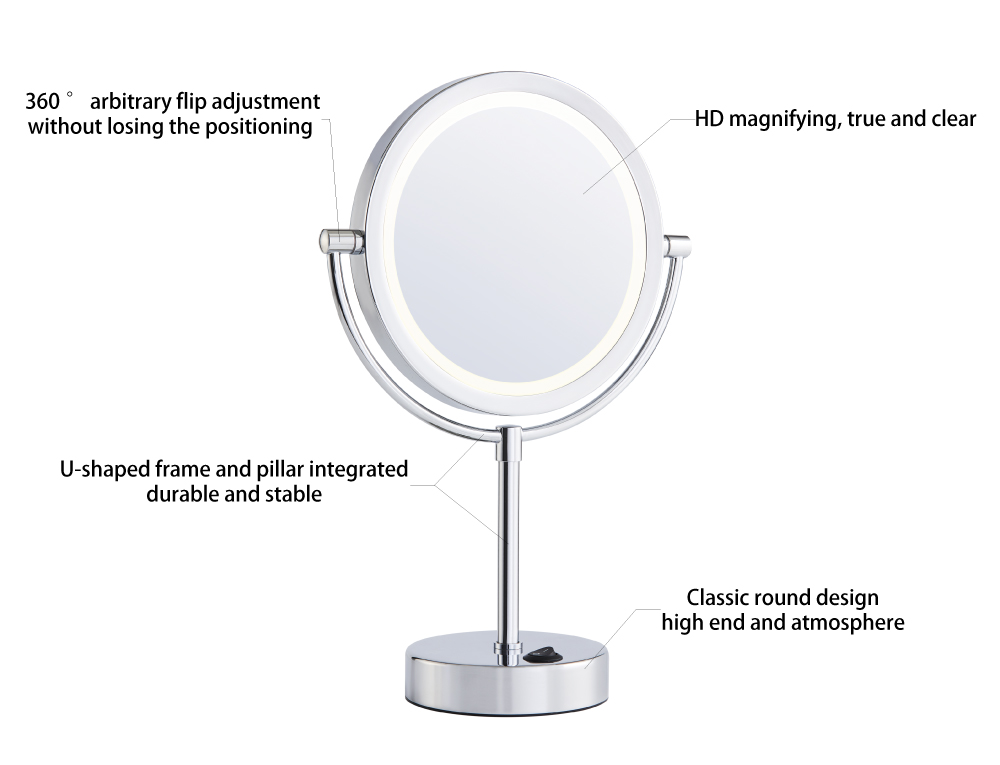 Material and quality:
Adjustable Standing Mirror is composed of metal, glass and electronic components. Metals are selected metal raw materials, through cutting, stamping, welding, polishing and electroplating.
The glass is made of high-definition glass imported from Taiwan. It is truly and not deformed.
Electronic original accessories are LED and driver, LED uses professional customized SMD lamp board, the driver passed the international certification standards, such as CE, UL, ETC and so on.
About us:
Shenzhen LEVE Household Products Co., Ltd. is a Chinese manufacturer that integrates design, production and sales. We provide the most professional and sincere service with our "dedicated and professional" philosophy. Welcome to consult!