Product description:
Adjustable Standing Mirror Also known as Swivel table mirror. Their design is very classic and popular. Rotatable design makes them very convenient, they can rotate 360 rotation, and there are angled and positioning!
Adjustable Standing Mirror can be divided into single mirror and double mirror. Whether they are single-sided or double-sided, they all have adjustment functions.
1. The elasticity is adjusted. When the user feels that the table mirror rotates too tightly or too loosely, the user can adjust their tightness according to the habit.
2.To adjust the position. The user can adjust the user can adjust the orientation of the table mirror according to their position.
3.Adjust the height. Users can adjust the height of the table mirror according to their height or stool height.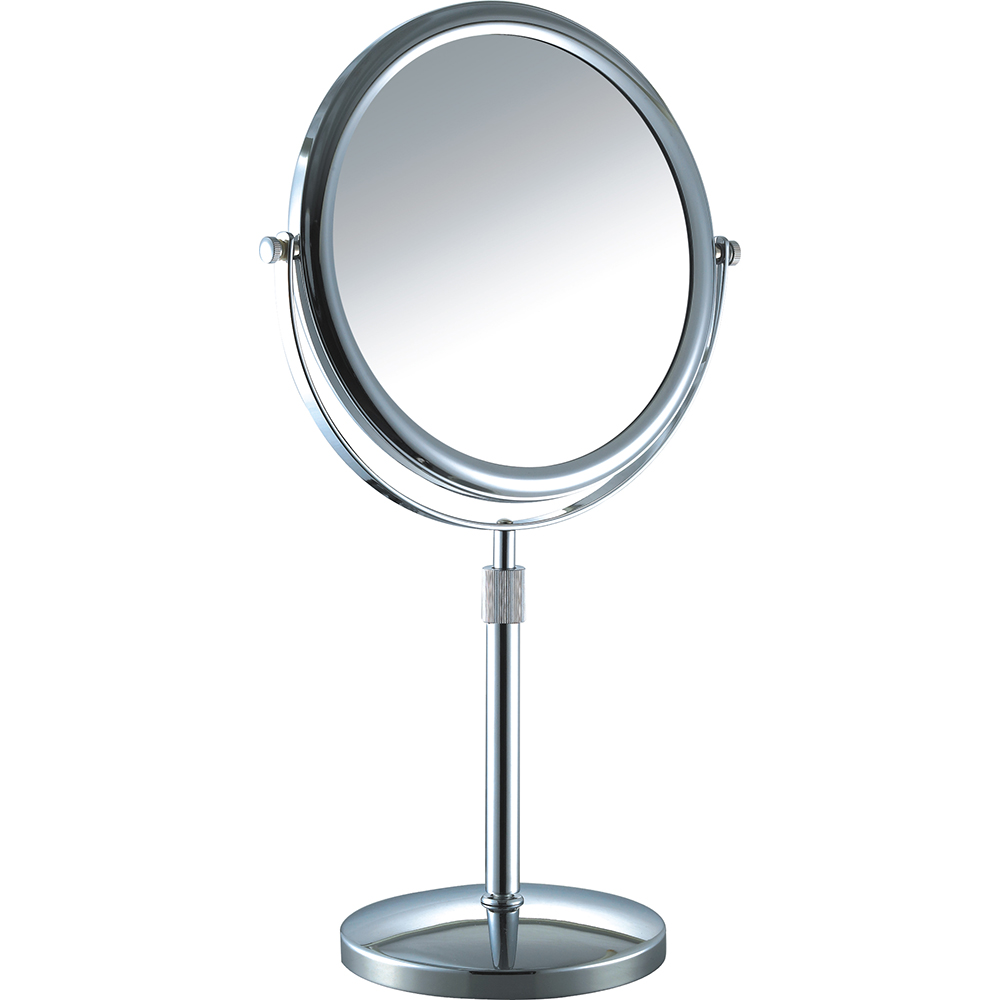 Material and Quality:
Now there are many different kinds of Makeup Mirror in the market, their quality and price are also different. So how to judge the quality of a make-up mirror?
First we need to learn what factors will effect the quality of a makeup mirror.
The quality of the makeup mirror depends on its material and structure. Different structures need to select different materials.
Makeup mirror is generally made of metal, glass and electronic accessories.
First is mental:
Generally mental materials included iron, brass, stainless steel and zinc. Our makeup mirror use different material according different structure. For example, for 3X magnification Round Vanity Table Mirror we normally use brass or iron to make round frame which physical properties is hard. For square Vanity Table Mirror with lights we usually use zinc which physical properties is soft and easy to shape. Our square mirrors are seamlessly connected and do not leak light, like square vanity table mirror with lights.
Then can you guarantee the quality of the makeup mirror if you choose the right material? No, because our materials are polished and plated. Polishing and plating also affects the quality of Vanity Mirror. Some make-up mirrors have bubbles on the surface, dark spots and so on are related to polishing and plating. There are two important factors affecting the quality of polishing and plating:
1. Polishing electroplating technology. Polishing and plating requires some skills and need professional operation;
2. The quality of raw materials. Such as iron, if the selected iron material has fossette, then the accessories made are not smooth and easy to rust. All materials affect polishing and plating.

Next is glass:
If the glass has good quality, the image presented will be clear and not distorted; On the contrary, the bad glass presents an image that is unrealistic and blurred, and the glass surface has bubbles and black.
Last one is electronic accessories:
Lighted makeup mirror can light, but the most worst is the lamp is not bright. This is very inconvenient if the battery is not easy to replace or can not be replaced, so electronic accessories are very important. The life of electronic components directly affect the life of makeup mirror. Our LED and drivers on the original electronic parts have CE, ETC, UL and other certifications. Lighted makeup mirror also has a variety of international safety certification, such as: UL, CE, GS, CB CCC.
About us:
Shenzhen LEVE Household Products Co., Ltd. is a Chinese manufacturer that integrates design, production and sales. We provide the most professional and sincere service with our "dedicated and professional" philosophy. Welcome to consult!